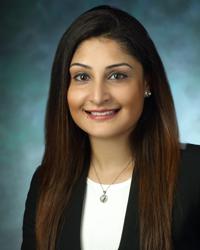 Dr. Sumbal Ashraf Janjua, MD
Specialties: Cardiology
About Me
Sumbal A. Janjua, MD, is a non-invasive cardiologist at the Heart and Vascular Institute of MedStar Washington Hospital Center. She specializes in the diagnosis and treatment of all cardiovascular conditions including coronary artery disease, valvular heart disease, preventive cardiology, etc., but her special interests include the use of cardiac CT in the pre-procedural structural assessment and advanced Echocardiography in the intraprocedural guidance of structural heart procedures.
As a multimodality cardiac imager, Dr. Janjua has particular expertise in structural echocardiography and cardiac CT and works with cardiac surgeons and interventional cardiologists in the collaborative diagnosis, assessment and treatment of patients with structural heart disease.
Dr. Janjua spent a couple of years completing the NIH sponsored T-32 advanced imaging research fellowship, with particular focus on coronary and carotid plaque analysis by CT and its association with outcomes. Dr. Janjua was selected as a finalist for the "Young Investigator" award at the Society of Cardiovascular CT meeting for her research involving statin use and plaque on coronary CT angiography from the ROMICAT trial. In addition to this, her work investigating carotid plaque by CT among people with HIV has been published in the American Heart Association's Circulation: Cardiovascular Imaging. Dr Janjua has several publications in leading peer reviewed journals and has presented her work at various cardiology meetings including ACC, AHA and SCCT. She also served as a reviewer for Circulation: Cardiovasular Imaging.
Philosophy of Care
"My philosophy of care revolves around providing excellent and compassionate patient care, being a strong advocate for my patients and involving them in shared decision making. I believe in a multidisciplinary approach in patient care and working in a collaborative manner to provide the highest standards of care to all patients."
Insurances Accepted
MedStar Health Providers participate with a wide range of health insurance products. We accept self-pay patients and the insurances plans listed below. This list is not comprehensive, it is updated periodically and is subject to change. If you do not see your health insurance plan or product listed, or if you have any questions regarding MedStar Health's participation with your health plan, please contact your health plan to verify participation with our providers.
Since the MedStar Health providers span the District of Columbia, Maryland and Virginia regions, our participation with DC, Maryland and Virginia Medical Assistance programs varies by provider group. Please contact your MedStar Physician's Office to assist with verifying Medical Assistance participation. If you are enrolled in a Medicaid Managed Care Organization, please contact your Medicaid health plan to verify participation.
Education
Fellowship Program:Rhode Island Hospital (2019)
Residency Program:St. Elizabeth's Hospital (2013)
Medical School:Aga Khan University (2007)
Certification
American Board of Internal Medicine, Internal Medicine
American Board of Internal Medicine, Cardiovascular Disease