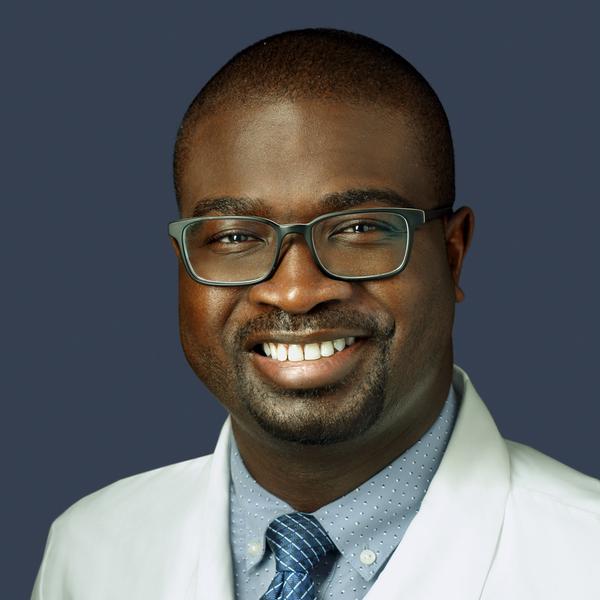 Dr. Nana Afari-Armah, MD
Specialties: Heart Failure and Transplantation Cardiology
Languages: English
About Me
Nana Afari-Armah, MD, is an advanced heart failure specialist at MedStar Washington Hospital Center. He is board certified in advanced heart failure and transplant cardiology, nuclear cardiology, echocardiography, and cardiovascular disease.
In his practice, Dr. Afari-Armah treats patients along the spectrum of advanced heart failure diagnoses, and delivers care plans that range from medical therapy, to ventricular assist devices, to cardiac transplantation. He has a special interest in patients with amyloidosis and other infiltrative cardiomyopathies.
Philosophy of Care
I make it my goal to never let a patient to leave my office without a complete understanding of their disease and their treatment plan. I remain available throughout their care, which is often the course of their lifetime. That is, in part, why I chose the heart failure specialty–to build close and caring partnerships that produce better health outcomes.
Practice Locations
110 Irving Street Northwest
Washington, DC 20010
Fax 202-877-3503
Insurances Accepted
MedStar Health Providers participate with a wide range of health insurance products. We accept self-pay patients and the insurances plans listed below. This list is not comprehensive, it is updated periodically and is subject to change. If you do not see your health insurance plan or product listed, or if you have any questions regarding MedStar Health's participation with your health plan, please contact your health plan to verify participation with our providers.
Since the MedStar Health providers span the District of Columbia, Maryland and Virginia regions, our participation with DC, Maryland and Virginia Medical Assistance programs varies by provider group. Please contact your MedStar Physician's Office to assist with verifying Medical Assistance participation. If you are enrolled in a Medicaid Managed Care Organization, please contact your Medicaid health plan to verify participation.
Conditions Treated
Advanced Heart Failure (adhf)
Alcoholic Cardiomyopathy
Arrhythmogenic Right Ventricular Dysplasia
Beriberi
Cardiac Amyloid
Cardiac Insufficiency
Cardiac Sarcoidosis
Congestive Heart Failure (chf)
Cor Pulmonale
Diabetic Cardiomyopathy
Dilated Cardiomyopathy
Familial Dilated Cardiomyopathy
Genetic Cardiomyopathy
Giant Cell Myocarditis
Heart Transplant Rejection
Idiopathic Hypertrophic Subaortic Stenosis
Infiltrative Disorders Of The Heart
Left Heart Failure
Pretransplant Clearance
Rheumatic Heart Failure
Right Heart Failure
Right Ventricular Cardiomyopathy
Tachycardia-Induced Cardiomyopathy
Takotsubo Cardiomyopathy
Viral Cardiomyopathy
Treatments
Chronic Inotropic Therapy
Circulatory Assist Devices
Heart Transplant
Home Inotropes
Mechanical Circulatory Support
Education
Fellowship Program:MedStar Washington Hospital Center (2017)
Fellowship Program:Temple University Hospital (2016)
Residency Program:Temple University Hospital (2013)
Medical School:George Washington University (2009)
Certification
American Board of Internal Medicine, Cardiovascular Disease
American Board of Internal Medicine, Advanced Heart Failure and Transplant Cardiology
American Board of Internal Medicine, Internal Medicine