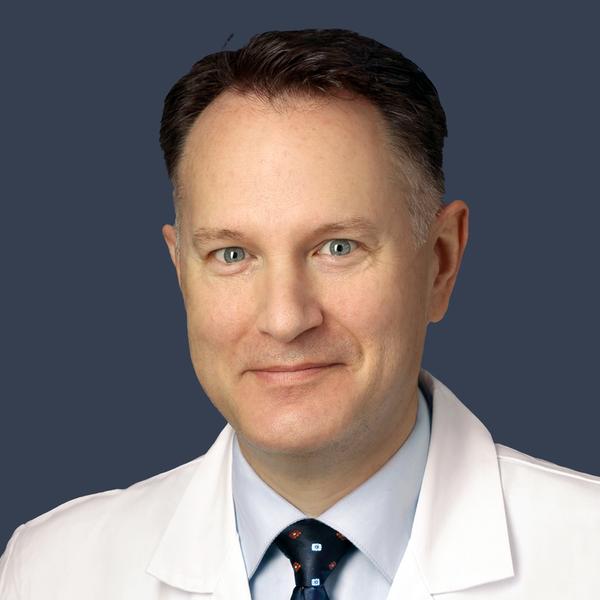 Dr. Mark R. Hofmeyer, MD, MS
Specialties:
Cardiology
,
Heart Failure and Transplantation Cardiology
Languages:
Spanish
,
German
,
English
About Me
Mark Hofmeyer, MD, is Program Director of the Advanced Heart Failure and Transplant Cardiology Fellowship Program at MedStar Washington Hospital Center, Medical Director of the Advanced Heart Failure IMC, and Assistant Professor of Medicine at the Georgetown University School of Medicine. He is board certified in cardiovascular disease, advanced heart failure, and transplant cardiology. He is a member of the American College of Cardiology, the International Society of Heart and Lung Transplantation, the Heart Failure Society of America.
As an advanced heart failure cardiologist, Dr. Hofmeyer has developed a specialized and unique skill set in the care he provides for patients with advanced heart failure – the final, common pathway of all heart disease.
 
Dr. Hofmeyer started his career in clinical research at the University of Michigan.  After completing a master's degree, he completed his medical degree at the Wayne State University School of Medicine in Detroit.  Dr. Hofmeyer went on to Miami to complete his internship and residency training in internal medicine at the University of Miami/Jackson Memorial Hospital. He continued on at the University of Miami/Jackson Memorial Hospital to complete fellowships in cardiovascular disease and advanced heart failure and transplant cardiology.
Dr. Hofmeyer has strong clinical and research interests in the genetics of dilated cardiomyopathy.  He is a senior member of the DCM Consortium, a multisite investigator group which conducts research studies focused on thet genetics and genomics of DCM, including discovery, mechanisms of disease, genetic epidemiology, clinical genetics, and precision medicine and its related questions of behavioral and implementation science..
Dr. Hofmeyer's practice is unique in that he partners with the palliative care team at MedStar Washington Hospital Center, offering a comprehensive approach to symptom management at all stages of disease. As part of a multidisciplinary team, Dr. Hofmeyer evaluates each individual's diagnosis to determine the treatment plan that will best improve their overall survival and quality of life. Dr. Hofmeyer evaluates the eligibility of individuals for advanced therapies such as inotropic support, Left Ventricular Assist Devices (LVADs), or a heart transplant, and manages those patients long term.
Philosophy of Care
"I view myself as an educator as well as an advisor for each individual who comes to me for care. In order for me to provide the best care possible, it is imperative for me to understand each patient, who they are as a person, as well as their goals for treatment. 
"Advanced heart failure not only affects the individual who is diagnosed, but also their family members and their caretakers. For this reason, I get to know my patients' loved ones so that I can understand how to support each individual as we go through this process together.
"With patience and compassion I take the time to listen to my patients and understand each person's concerns so that I can customize a plan of care that is satisfactory to each individual patient. It is very important to me that my patient understands each treatment option that I recommend and how it relates to their underlying condition."
"I emphasize effective communication between myself and my patients. Through the development of a care plan in conjunction with my patient, my goal is for each individual to take ownership of their care and to feel empowered through this decision making process."
Practice Locations
7501 Surratts Road
Clinton, MD 20735
110 Irving Street Northwest
Washington, DC 20010
Fax 202-877-3503
Insurances Accepted
MedStar Health Providers participate with a wide range of health insurance products. We accept self-pay patients and the insurances plans listed below. This list is not comprehensive, it is updated periodically and is subject to change. If you do not see your health insurance plan or product listed, or if you have any questions regarding MedStar Health's participation with your health plan, please contact your health plan to verify participation with our providers.
Since the MedStar Health providers span the District of Columbia, Maryland and Virginia regions, our participation with DC, Maryland and Virginia Medical Assistance programs varies by provider group. Please contact your MedStar Physician's Office to assist with verifying Medical Assistance participation. If you are enrolled in a Medicaid Managed Care Organization, please contact your Medicaid health plan to verify participation.
Education
Fellowship Program:University of Miami - Jackson Memorial Hospital (2011)
Fellowship Program:University of Miami - Jackson Memorial Hospital (2010)
Residency Program:University of Miami - Jackson Memorial Hospital (2007)
Medical School:Wayne State University School Of Medicine (2004)
Certification
American Board of Internal Medicine, Advanced Heart Failure and Transplant Cardiology
American Board of Internal Medicine, Cardiovascular Disease
Awards
Thomas A. Curtis Outstanding Cardiovascular Fellow Award 2009-2010

Outstanding Resident in Ambulatory Internal Medicine 2006-2007

Distinction in Biomedical Research, June 2004

Congress-Bundestag Scholar