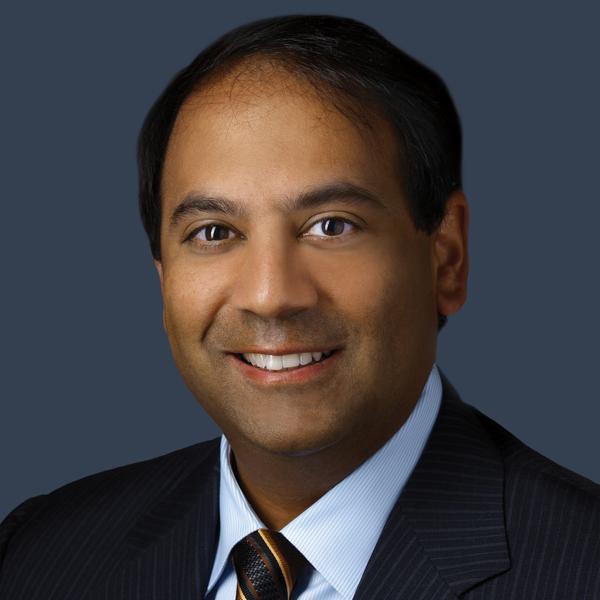 Dr. Manish Hasmukh Shah, MD
Specialties: Electrophysiology
Languages: English
About Me
Manish Shah, MD, is the Program Director of Cardiac Electrophysiology Fellowship Training at MedStar Washington Hospital Center and MedStar Georgetown University Hospital, as part of MedStar Heart & Vascular Institute. He is board certified in cardiac electrophysiology, as well as cardiovascular disease, and is a recipient of the general cardiology faculty teaching award at MedStar Georgetown University Hospital.
Dr. Shah specializes in the management of slow and fast heart rhythm disorders, including atrial fibrillation, supraventricular tachycardia (SVT), and ventricular tachycardia. He has special expertise in complex ablation procedures to treat atrial fibrillation, premature ventricular contractions (PVC's), and ventricular tachycardia. Additionally, he is the leading implanter of left atrial appendage closure devices (also known as the WATCHMAN device) in the mid-Atlantic region. He is a national and international proctor for left atrial appendage closure for stroke risk reduction in patients with atrial fibrillation.  His research interests include the use of catheter ablation techniques to improve outcomes for patients with atrial fibrillation and optimizing implantation of left atrial appendage closure devices. 
Dr. Shah received his biomedical engineering and medical degrees from Case Western Reserve University. He earned several academic distinctions, including induction into the AOA Honor Medical Society and the Howard Hughes Medical Fellowship. He subsequently completed his internal medicine residency at Harvard Medical School's Brigham and Women's Hospital. He then went on to complete a fellowship program in general cardiology at the Johns Hopkins Hospital, where he stayed to complete an advanced fellowship in cardiac electrophysiology as chief fellow.
When not advocating cutting-edge care for his patients, Dr. Shah enjoys spending time with his two children.
Philosophy of Care
"Honesty, transparency, clear communication and patient education are the pillars of my practice. Your good health is my personal responsibility, and I strive to be accessible, compassionate and on the vanguard of new medical technology.
The focus of my initial consultation is patient education through the use of clear and simple language so that you can make informed decisions that serve you best. If you require an electrophysiologic procedure, we have a team of doctors, nurse practitioners, and nurses who will provide you with comfort, reassurance and world-class, cardiac care."
Practice Locations
3020 Hamaker Court
Suite 502
Fairfax, VA 22031
1830
Suite 405
Reston, VA 20190
Fax 202-877-3503
110 Irving Street Northwest
Washington, DC 20010
Fax 202-877-3503
Insurances Accepted
MedStar Health Providers participate with a wide range of health insurance products. We accept self-pay patients and the insurances plans listed below. This list is not comprehensive, it is updated periodically and is subject to change. If you do not see your health insurance plan or product listed, or if you have any questions regarding MedStar Health's participation with your health plan, please contact your health plan to verify participation with our providers.
Since the MedStar Health providers span the District of Columbia, Maryland and Virginia regions, our participation with DC, Maryland and Virginia Medical Assistance programs varies by provider group. Please contact your MedStar Physician's Office to assist with verifying Medical Assistance participation. If you are enrolled in a Medicaid Managed Care Organization, please contact your Medicaid health plan to verify participation.
Education
Fellowship Program:Johns Hopkins Hospital (2008)
Fellowship Program:Johns Hopkins Hospital (2006)
Residency Program:Brigham and Women's Hospital (2003)
Residency Program:Veteran Administration Medical Center - Boston MA (2003)
Internship Program:Brigham and Women's Hospital (2003)
Medical School:Case Western Reserve University School of Medicine (2003)
Internship Program:Brigham and Womens Hospital (2003)
Medical School:Case Western Reserve University (2000)
MedStar Washington Hospital Center
MedStar Southern Maryland Hospital Center
MedStar Georgetown University Hospital
Featured in the News
Podcasts