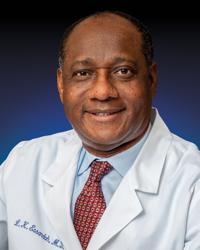 Dr. Louis K. Essandoh, MD
Specialties: Cardiology
Languages: English
About Me
Louis K. Essandoh, MD is a board certified cardiologist. His interests include preventative, consultative and nuclear cardiology, exercise physiology, and clinical trials. His primary focus is coronary heart disease, valvular heart disease and cardiovascular pharmacology.
Dr. Essandoh strives to involve patients in their care so that they share in all major decisions. He believes that intently listening to his patients makes their diagnoses become evident. He presents an unbiased assessment, allowing patients to decide their own therapy after becoming well-informed and educated on their condition.
Practice Locations
4175 North Hanson Court
Bowie, MD 20716
2002 Medical Parkway
Annapolis, MD 21401
Fax 410-573-9413
Insurances Accepted
MedStar Health Providers participate with a wide range of health insurance products. We accept self-pay patients and the insurances plans listed below. This list is not comprehensive, it is updated periodically and is subject to change. If you do not see your health insurance plan or product listed, or if you have any questions regarding MedStar Health's participation with your health plan, please contact your health plan to verify participation with our providers.
Since the MedStar Health providers span the District of Columbia, Maryland and Virginia regions, our participation with DC, Maryland and Virginia Medical Assistance programs varies by provider group. Please contact your MedStar Physician's Office to assist with verifying Medical Assistance participation. If you are enrolled in a Medicaid Managed Care Organization, please contact your Medicaid health plan to verify participation.
Education
Fellowship Program:Mayo Clinic (1988)
Residency Program:Mayo Clinic (1985)
Medical School:Yale University School of Medicine (1981)