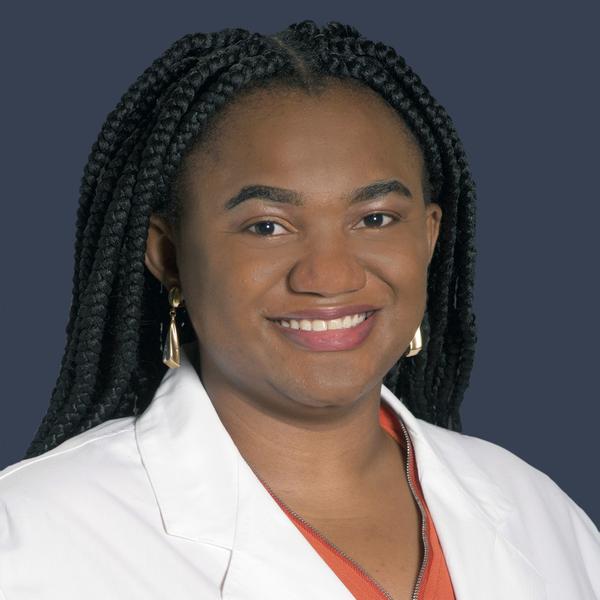 Dr. Ijeoma Chinenye Ezeife, MD
Specialties: Cardiology
Languages: English
About Me
Ijeoma Ezeife, MD is a fellowship-trained non-invasive cardiologist with the MedStar Heart & Vascular Institute at MedStar Good Samaritan Hospital and MedStar Union Memorial Hospital. Her clinical interests include valvular heart disease, preventive cardiology, women's cardiovascular health, and heart failure treatment.
Dr. Ezeife provides comprehensive cardiology care for patients who are at high risk for, or who recently experienced heart failure. Dr. Ezeife advocates for heart disease prevention, offering education, guidance, and intervention to help patients understand their diagnoses and the steps they can take to improve their heart health.
A native of Nigeria, Dr. Ezeife committed to a career in medicine at a very young age. She saw an opportunity to personally make a positive difference in her country and in the world, with the prevalence of heart disease on the rise.
She thrives working in the fast-paced hospital environment and takes pride in the role she plays as patients are diagnosed, treated, and recovering from life threatening health issues.
Practice Locations
5601 Loch Raven Boulevard
Russell Morgan Bldg Ste 206
Baltimore, MD 21239
Fax 443-444-4606
5601 Loch Raven Boulevard
GOOD SAMARITAN HOSPTIAL
Baltimore, MD 21239
Insurances Accepted
MedStar Health Providers participate with a wide range of health insurance products. We accept self-pay patients and the insurances plans listed below. This list is not comprehensive, it is updated periodically and is subject to change. If you do not see your health insurance plan or product listed, or if you have any questions regarding MedStar Health's participation with your health plan, please contact your health plan to verify participation with our providers.
Since the MedStar Health providers span the District of Columbia, Maryland and Virginia regions, our participation with DC, Maryland and Virginia Medical Assistance programs varies by provider group. Please contact your MedStar Physician's Office to assist with verifying Medical Assistance participation. If you are enrolled in a Medicaid Managed Care Organization, please contact your Medicaid health plan to verify participation.
Education
Fellowship Program:Morristown Medical Center (2020)
Fellowship Program:Morristown Memorial Hospital (2019)
Residency Program:John H. Stroger Jr. Hospital of Cook County (2017)
Residency Program:Cook County Hospital (2017)
Internship Program:Cook County Hospital (2014)
Medical School:University of Nigeria College of Medicine (2011)
Medical School:University of Nigeria (2011)
Certification
American Board of Internal Medicine, Interventional Cardiology
American Board of Internal Medicine, Internal Medicine